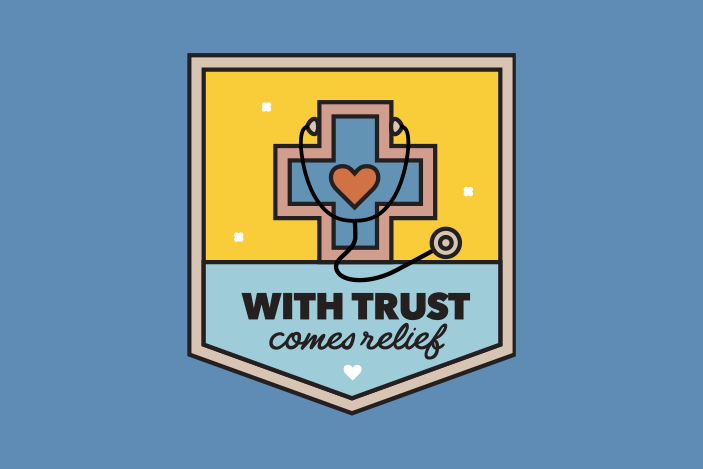 With trust comes relief
June 5, 2021
a letter from nichole
With the gates open and Family Camp weekends in full swing, let's take a moment to reflect on this month's core value: With Trust Comes Relief.
Families trust Flying Horse Farms to provide a safe experience no matter the circumstances—included during an ongoing pandemic. With the reopening of camp this spring, we've continued to accomplish this. Thanks to rigorous new protocols, families, volunteers, and staff have been kept safe while also immersing in a full camp experience focused on bringing much needed joy and outdoor fun. Families have found relief and respite from the stress of intense isolation, upended routines, and increased management of a serious illness at home.
Creating a trusted environment includes providing a safe space in which campers and families can grow and thrive. At camp, this is done by putting just as much importance on psychosocial health and safety as physical needs. We know children with serious illnesses often experience co-occurring mental health diagnoses due to past trauma, or the existence of living with a serious illness can perpetuate the experience of living in constant crisis. Upon arrival, walking through the Hole in the Wall encourages family members to leave their worries and stresses behind, it does not mean leaving behind their lived experience, including mental health struggles, but to embrace the trust in the moment the FHF team can offer and exhale.
Understanding the increased need for mental health support after a turbulent year, camp has continued to expand its psychosocial program. This includes the creation and hiring of a new staff position, a Behavioral Health Program Manager, to ensure all who come to camp are cared for holistically. From launching Caregiver Fireside Chats to offering mental health resources to families during their time at camp, we are steadfast in understanding the whole family can be affected by the diagnosis of a serious illness. In order to achieve our vision of being the first prescription in holistic healing, we are committed to taking this holistic approach—which includes a focus on psychosocial health and a trauma informed approach in all we do. In addition to the programming offered by camp, we're expanding partnerships with behavioral health organizations to maximize program offerings.
There is much to be excited for at camp this year as FHF expands its services and celebrates its 10th anniversary. What better way to Celebrate Every Milestone of an anniversary year than to host this year's Campfire event—at camp! VIP tickets are now on sale, and patron ticket sales open next month. I look forward to welcoming everyone through the gates to celebrate, to invite you to walk through the Hole in the Wall yourself, and maybe even share in a little song and dance. To purchase a VIP a ticket or sponsorship, click here.
As always, you are welcome to come take a tour and see the beautiful property and go for a walk and talk to catch up on all the things happening because of camp. Give us a call at 419.751.7077 or email to schedule your visit today.
~ Nichole