Camp Rentals
Looking for a unique and inspiring location for your next executive retreat, team offsite, or group event? Come to Flying Horse Farms and experience wide-open spaces and world-class camp facilities. Plus, you'll feel a bit of that camp magic knowing every rental helps provide transformational camp experiences to kids with serious illnesses and their families—free of charge.
The Location
Flying Horse Farms offers simple, rustic elegance with the energizing serenity of nature. Spend a day (or more) bonding with your team in a place that encourages exploration and inclusion. Host a conference or workshop in a truly out-of-the-corporate-box setting. Escape with your executive team to comfortable seclusion and peaceful privacy. Bring your entire organization for a day of productivity, outdoor activity, and fun.
Located between Columbus and Cleveland in Mt. Gilead, Ohio, Flying Horse Farms is the perfect central setting for any type of group retreat. With 200 beautiful acres, multiple spaces indoor and out, and comfortable overnight acommodations, it's a place to retreat, relax, and reconnect.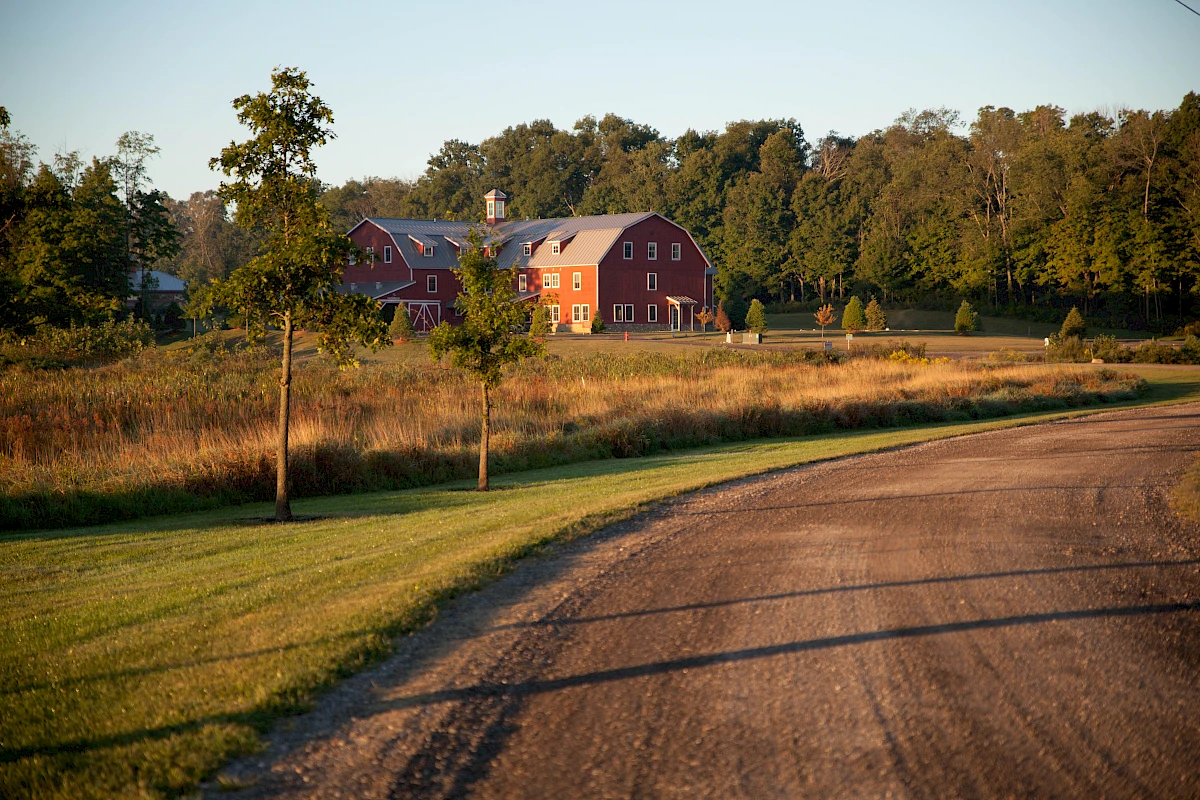 A one-of-a-kind space for upscale escapes. Located in our iconic Big Red Barn, the AEP Atrium features soaring ceilings, an oversized rustic stone fireplace, a private conference room, and a covered outdoor patio. With soaring ceilings, wide open space, large windows, and incredibly comfortable furniture, it's a room ready to spark big thinking.
The attached conference room, outdoor patio, and mezzanine that overlooks the Atrium allow for multiple breakout spaces.
Size: 3,500 sq ft
Atrium capacity: 35
Conference room capacity: 12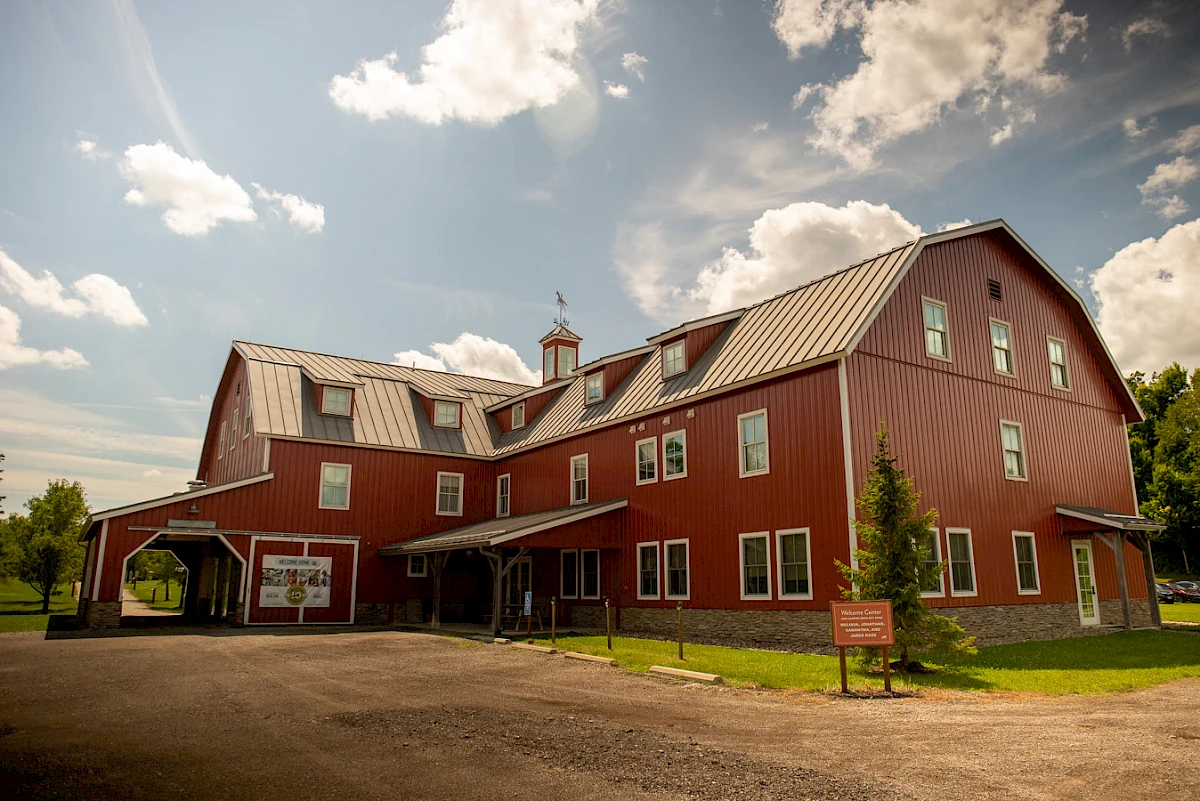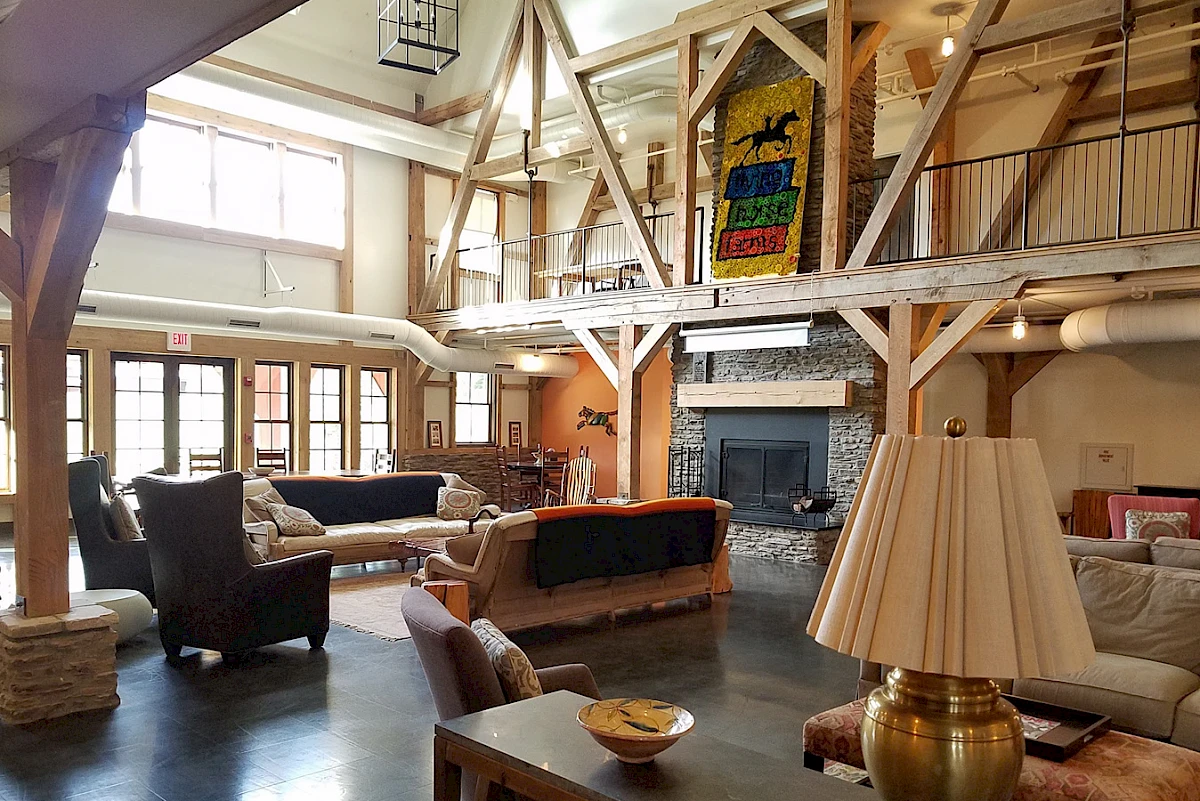 A spectacular space to hatch big plans. The name might be a nod to the structures that give shelter to chickens, but our Coop is a space that encourages courageous thinking and creative vision. Three walls of large windows flood The Coop with natural light and offer one of the best views anywhere at camp. A mix of tables, chairs, and comfortable couches can be arranged multiple ways to create the perfect problem-solving space for whatever challenge you bring.
An additional rental opportunity is available if more space is needed to spread your wings a bit. Simply slide open the barn doors to access the attached Activity Center – a large pavilion that includes oversized party games, ping pong, air hockey, and even a jukebox.
Size: 1,000 sq ft
Capacity: 28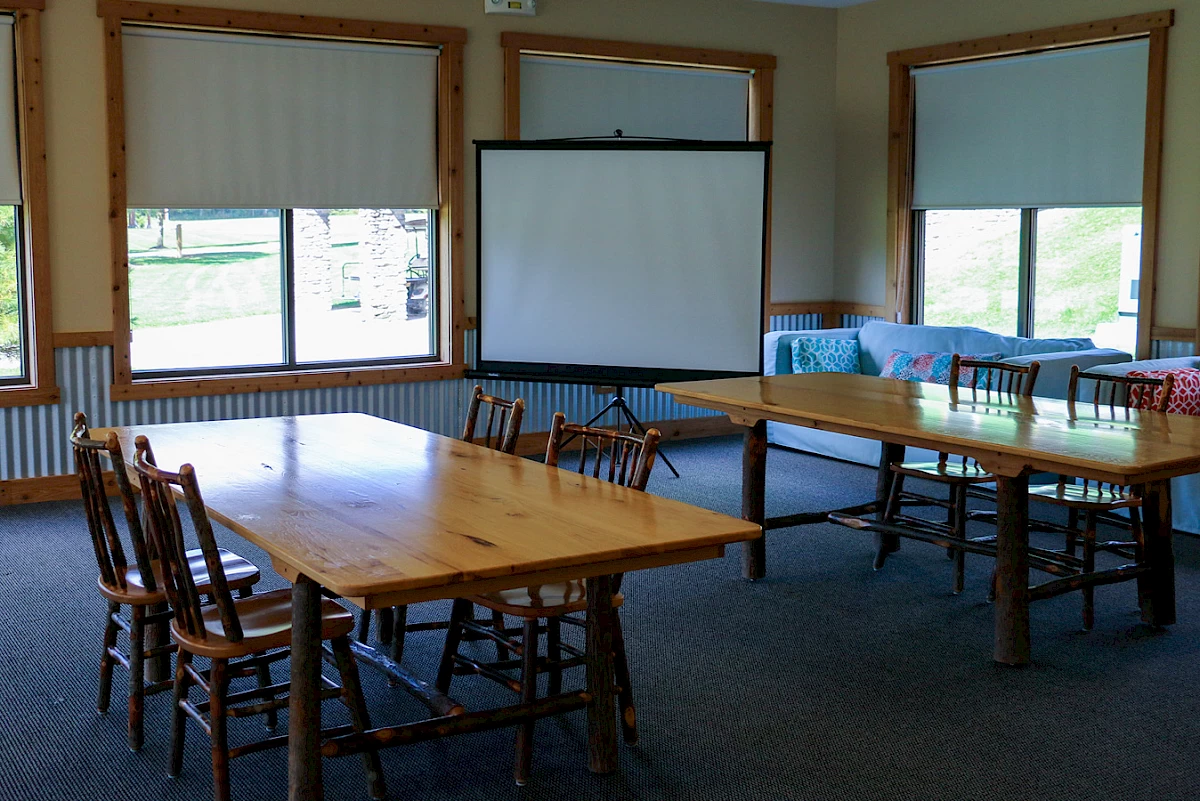 Experience the heart of camp. Filled with colorful campiness and hand-crafted wood furnishings, The Grand Dining Hall is ideal for large groups or events that require lots of extra elbow room. A massive stone fireplace provides an impressive backdrop for presentations, as well as a cozy spot for sipping coffee and swapping stories.
The Grand Dining Hall also offers 180-degree views of camp, a wraparound covered patio, accessible restrooms, Wi-Fi, AV, and a full commercial kitchen.
Size: 7803 sq ft
Capacity: 225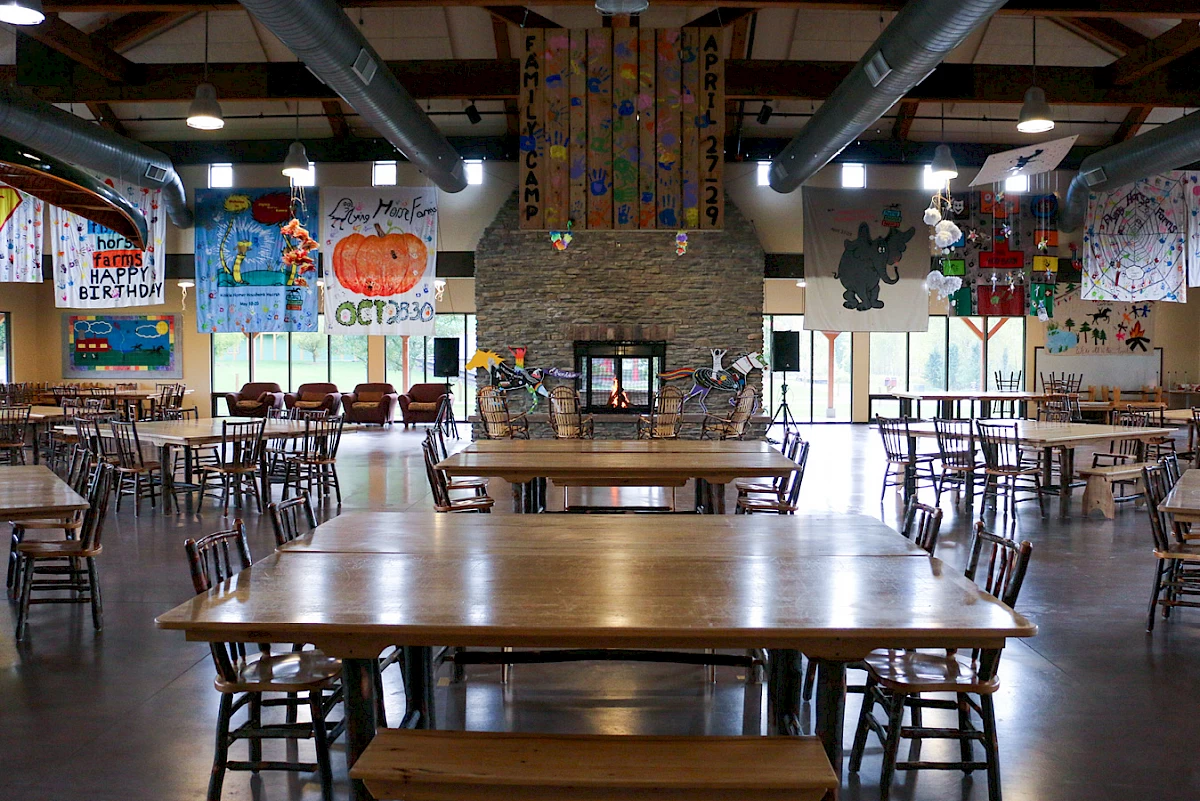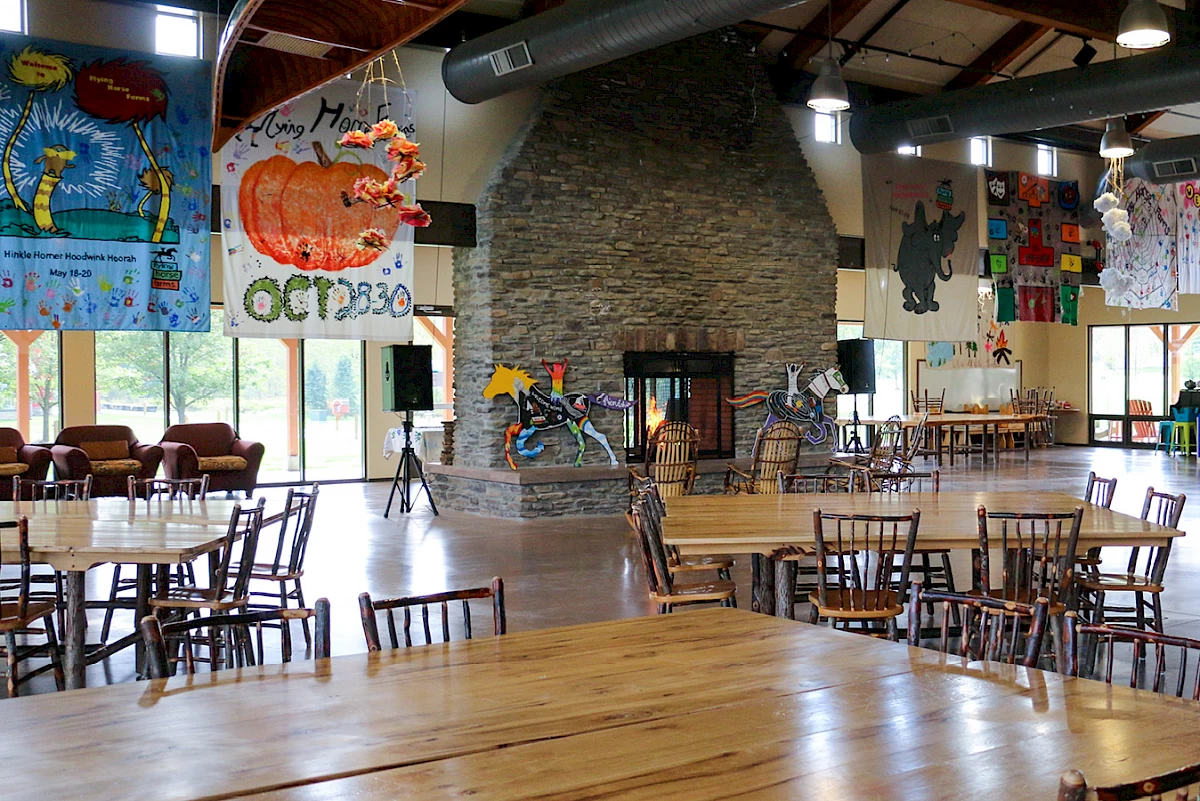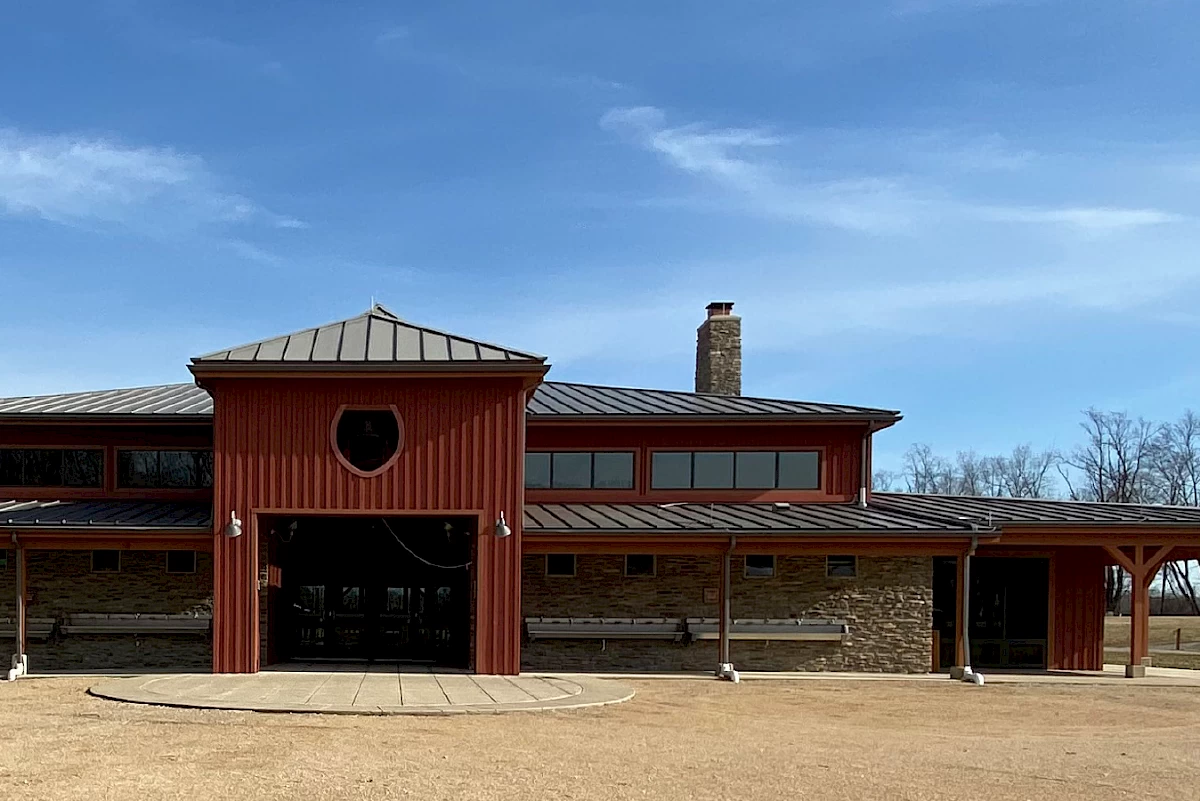 A big space ready for your big energy. The Cardinal Health Foundation Activity Center is designed for large group events. It features wide open space, a large stage, and a wall of garage doors that connect the space to the great outdoors during warmer months. An incredibly versatile space, it can be filled with tables and chairs, or left empty for team building activities, or a combination of the two.
The Activity Center offers also offers accessible restrooms, Wi-Fi, AV, oversized party games, ping pong, air hockey, and even a jukebox. If a smaller private area is needed, The Coop, a large conference room directly connected to the Activity Center is available for rental as well.
Size: 9155 sq ft
Activity Center capacity: 225
The Coop capacity: 28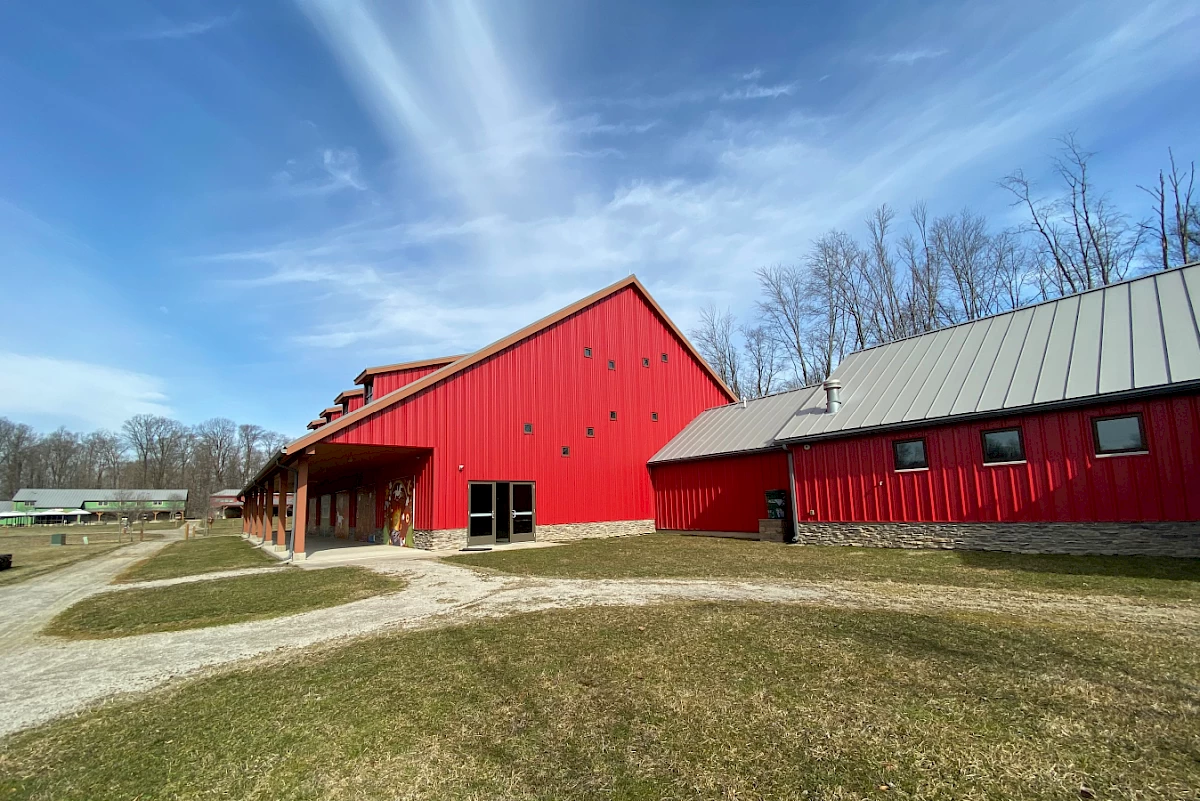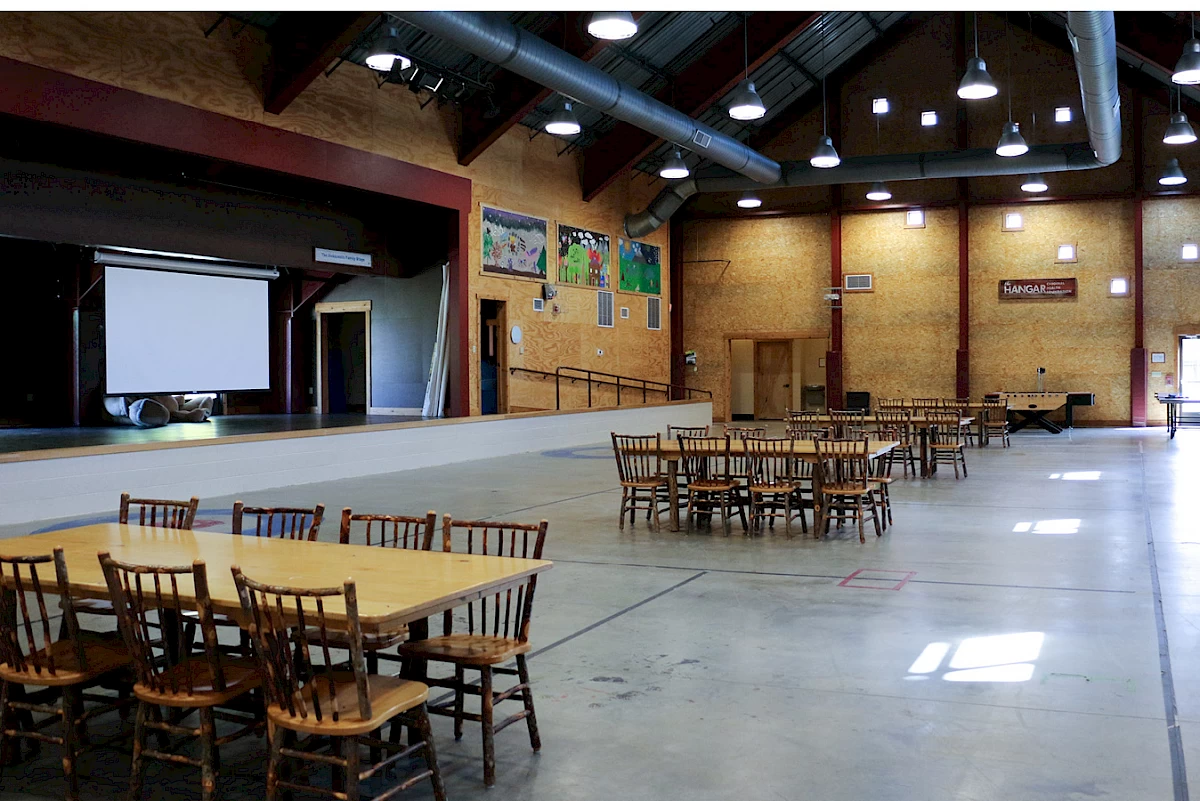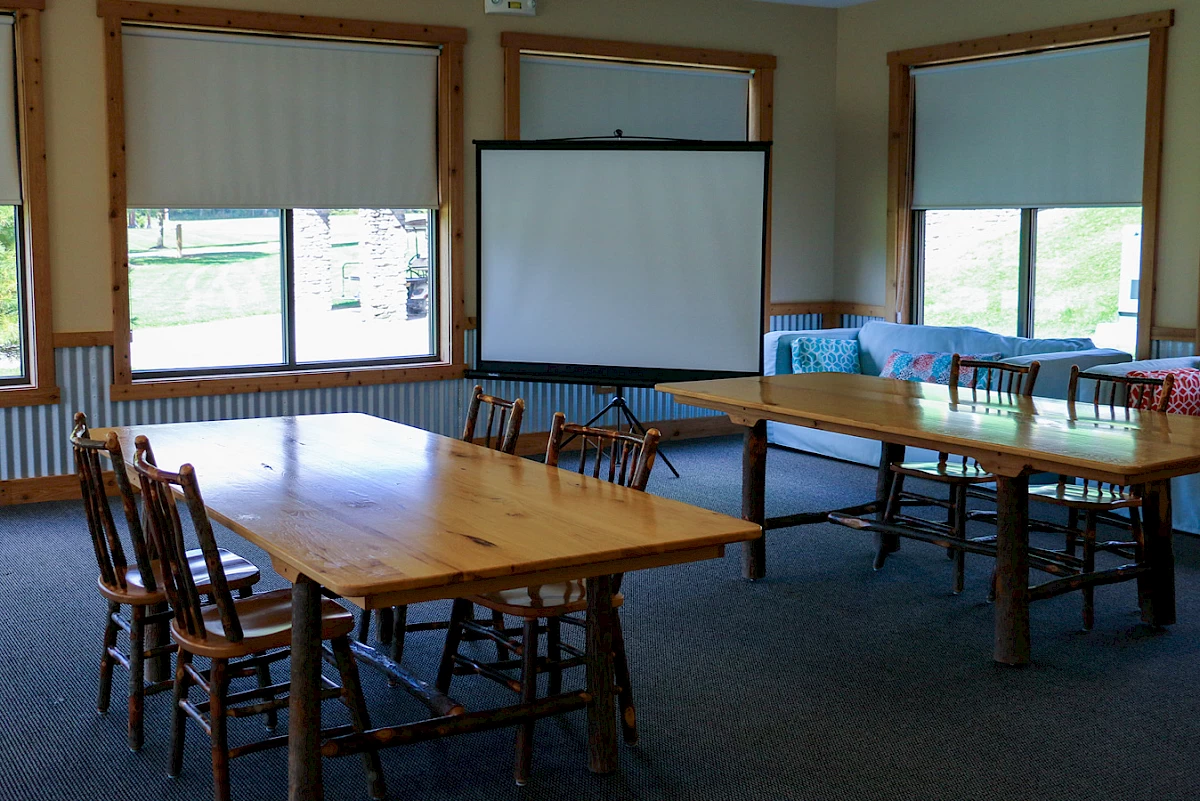 A natural spot to present and to be present.
The Camphitheater is where some of our favorite camp traditions come to life. Nestled just inside the woods at the back of the property, our take on the outdoor amphitheater features a covered stage area flanked by two large fire pits (woodburning and gas). Oversized barn doors on the backside of the stage open to a beautiful view of our reflecting pond.
The Camphitheater features a rear projection screen, speakers, and microphones. Restrooms are located nearby in our Arts & Crafts building.
Stage Size: 1,200 sq ft
Seating area capacity: 200
Stage capacity: 47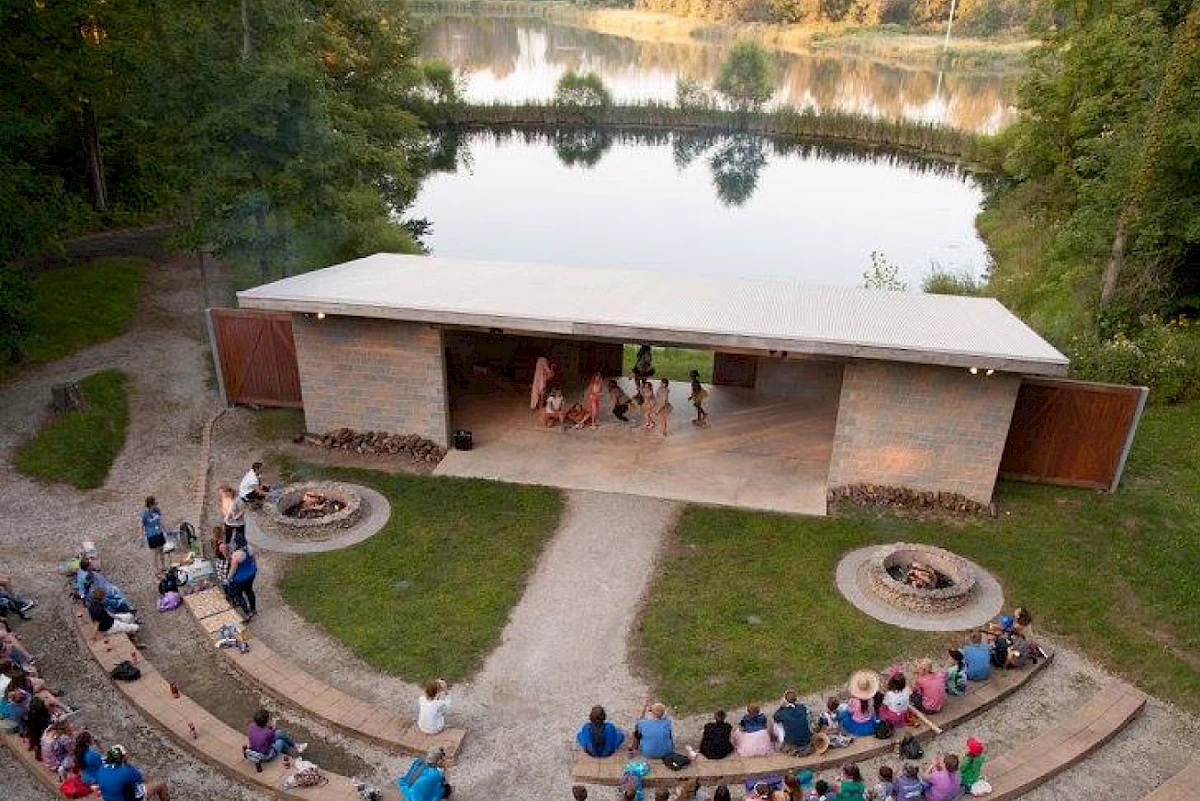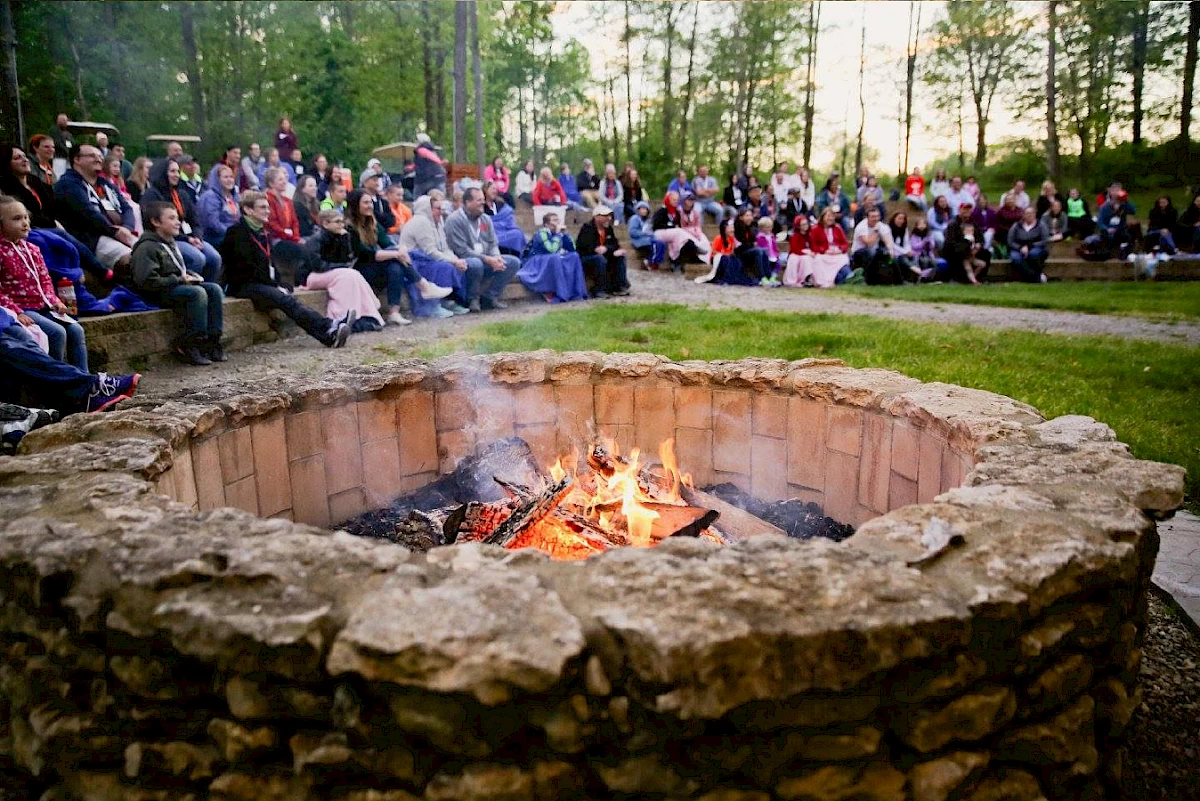 Our unique take on the classic summer camp cabin. Accommodating a maximum of 14 guests in each cabin, these aren't your typical summer camp bunkhouses. Sleep in and snuggle up under handmade quilts, sip a cup of coffee on the covered porch, or lounge in a handmade rocking chair. They are the perfect overnight accommodation for groups and teams. Add multiple cabins for larger groups or added privacy.
Each cabin offers a small refrigerator, coffee maker, two sets of accessible restrooms, Wi-Fi, and controllable heat and air conditioning. Fresh linens, pillows, and handmade quilts available for an additional fee. Each cabin cluster also has a shared fire pit in the common area between cabins.
12 Cabins
Each cabin sleeps 14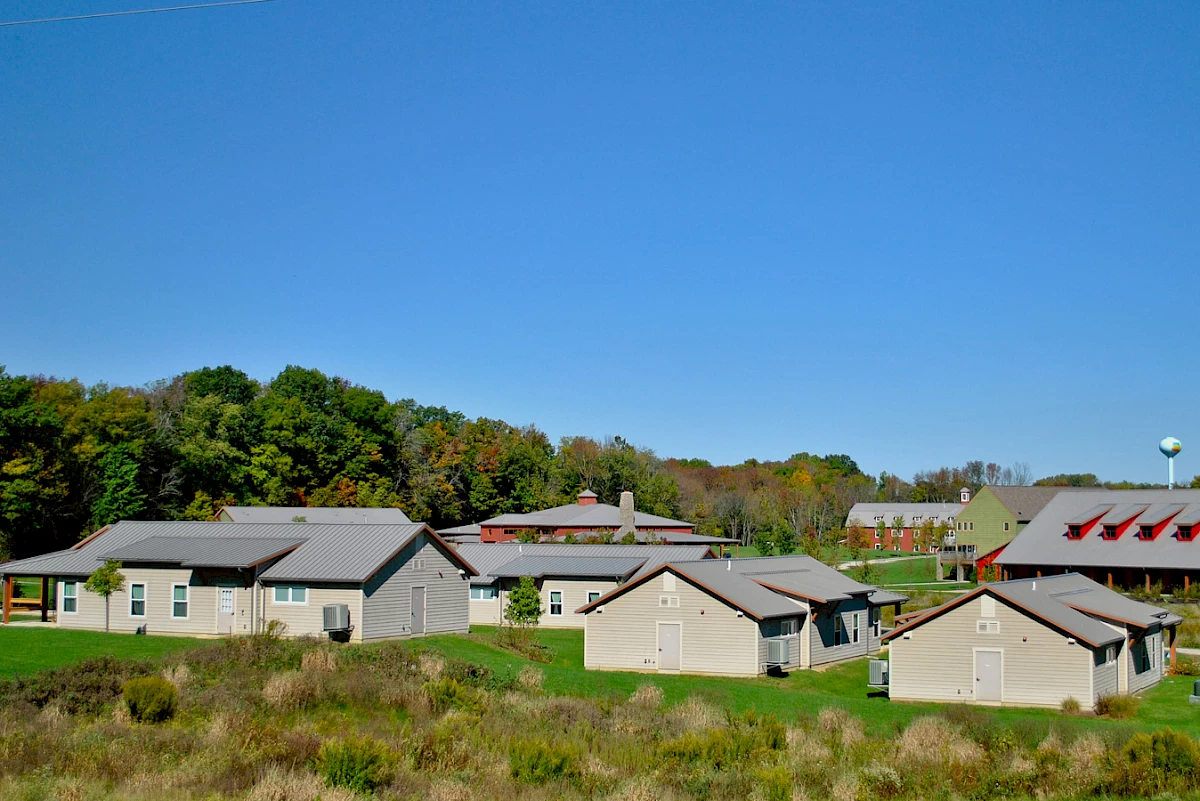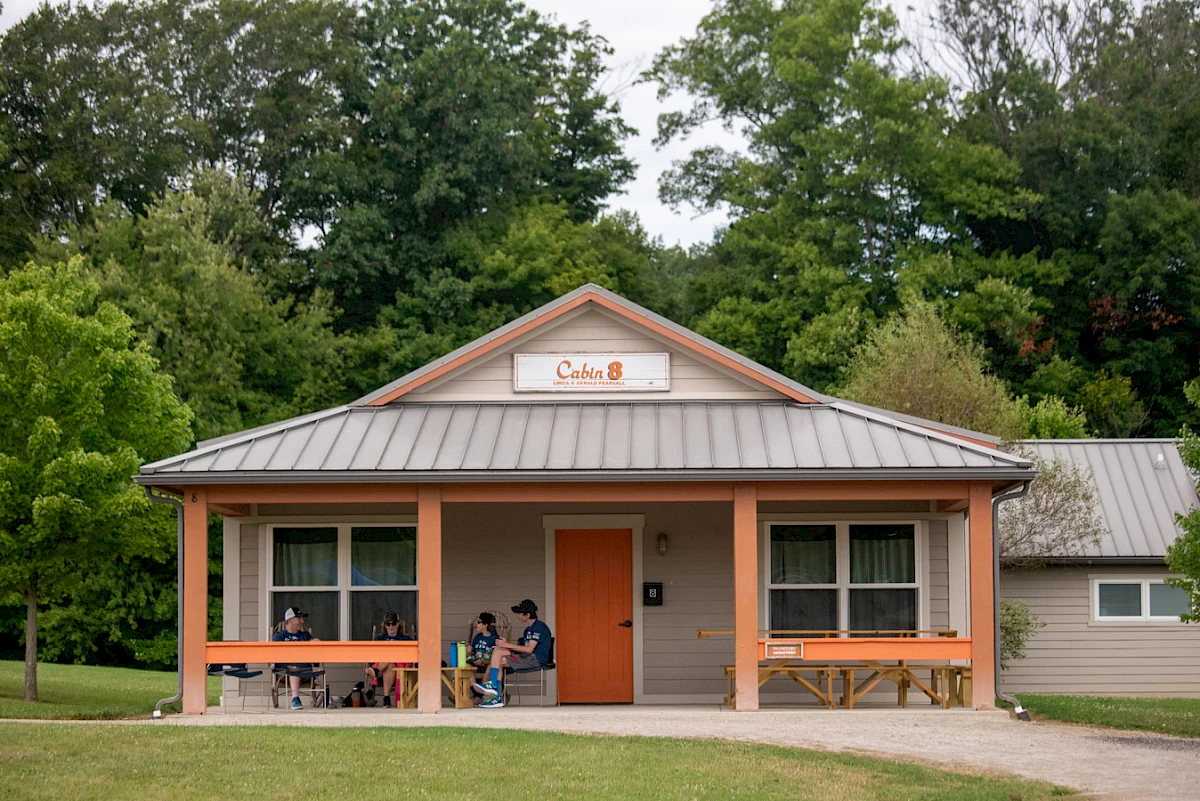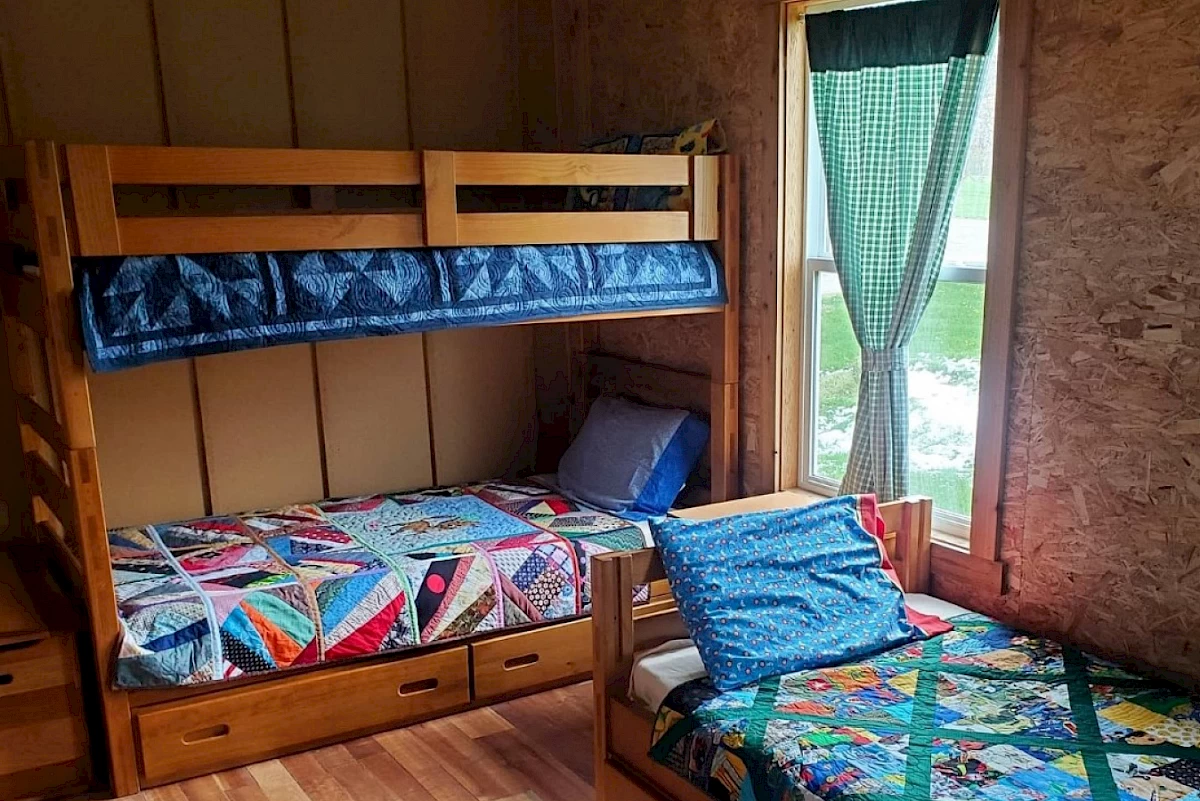 The most comfortable barn you've ever slept in. Far more modern than it appears, the Big Red Barn houses two floors of comfy overnight bunk rooms for up to 68 guests. Rooms with queen beds also include a small refrigerator and coffee maker. Every room has a private bathroom with shower. Fresh linens, pillows, quilts, and towels available for an additional fee. Rooms have WIFI, but no TV.
Room Types:
Queen bed (sleeps 2)
*Queen bed + 1 bunk bed (sleeps 4 total)
4 bunk beds + single (sleeps 5 total)
* During camp months these rooms are converted to 2 singles + 1 bunk bed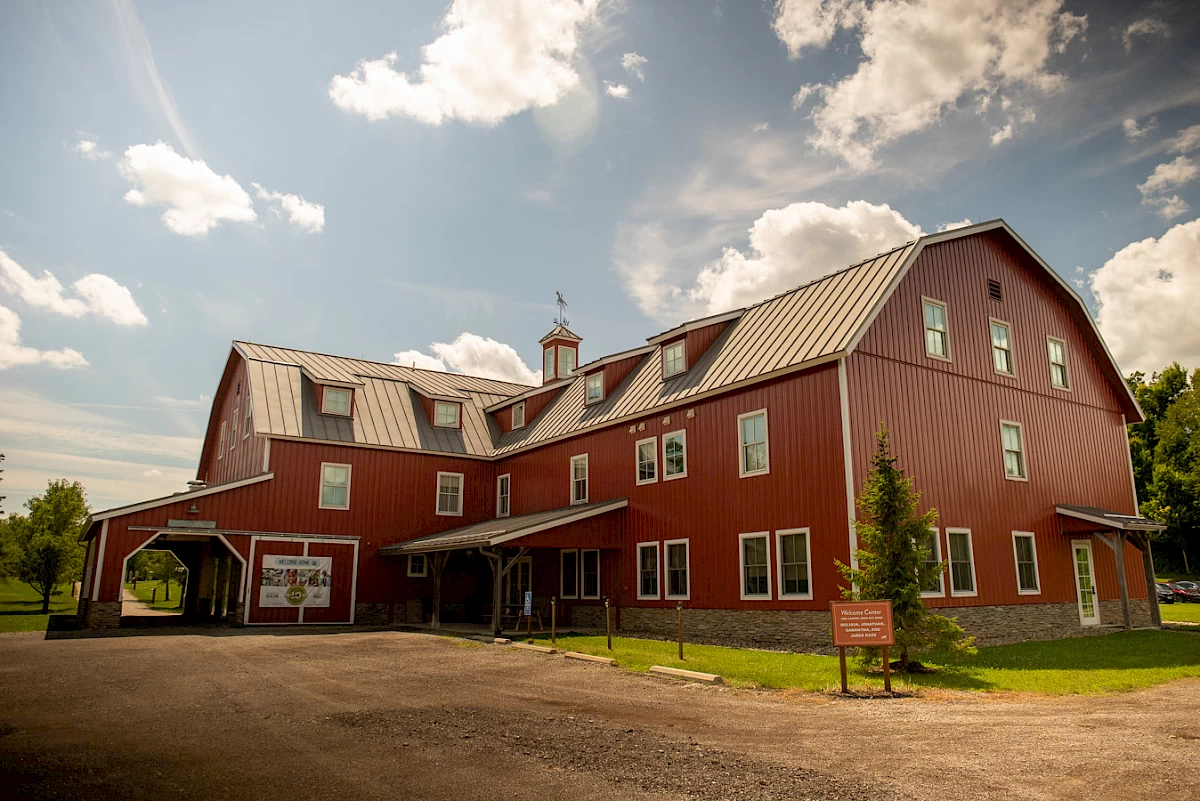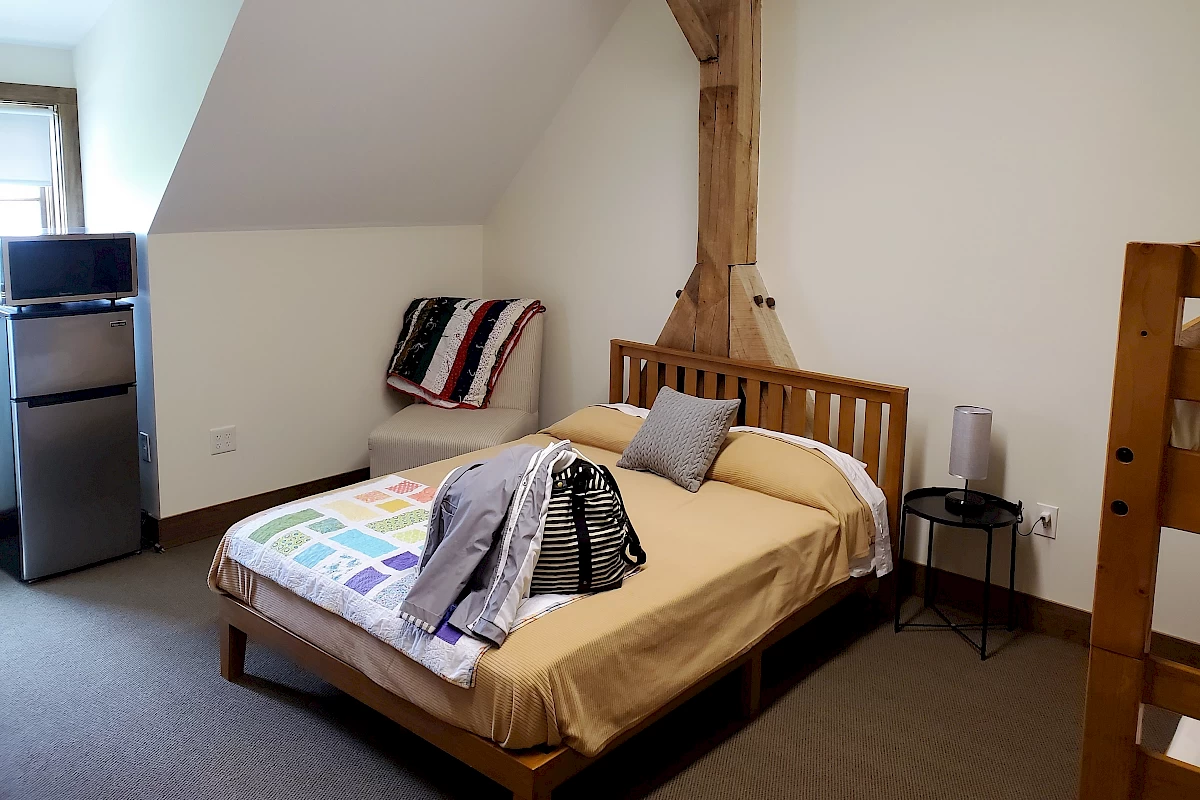 Where rustic meets really nice. Our Wellnest is not just a full-service medical building in disguise. Upstairs it also features three nicely appointed suites for overnight guests. Each suite features separate bedrooms, living room, bathroom, and kitchenette with full size refrigerator and oven. Fresh linens, pillows, quilts, and towels available for an additional fee. Suites have WIFI, but no TV.
3 Suites
Each suite sleeps 6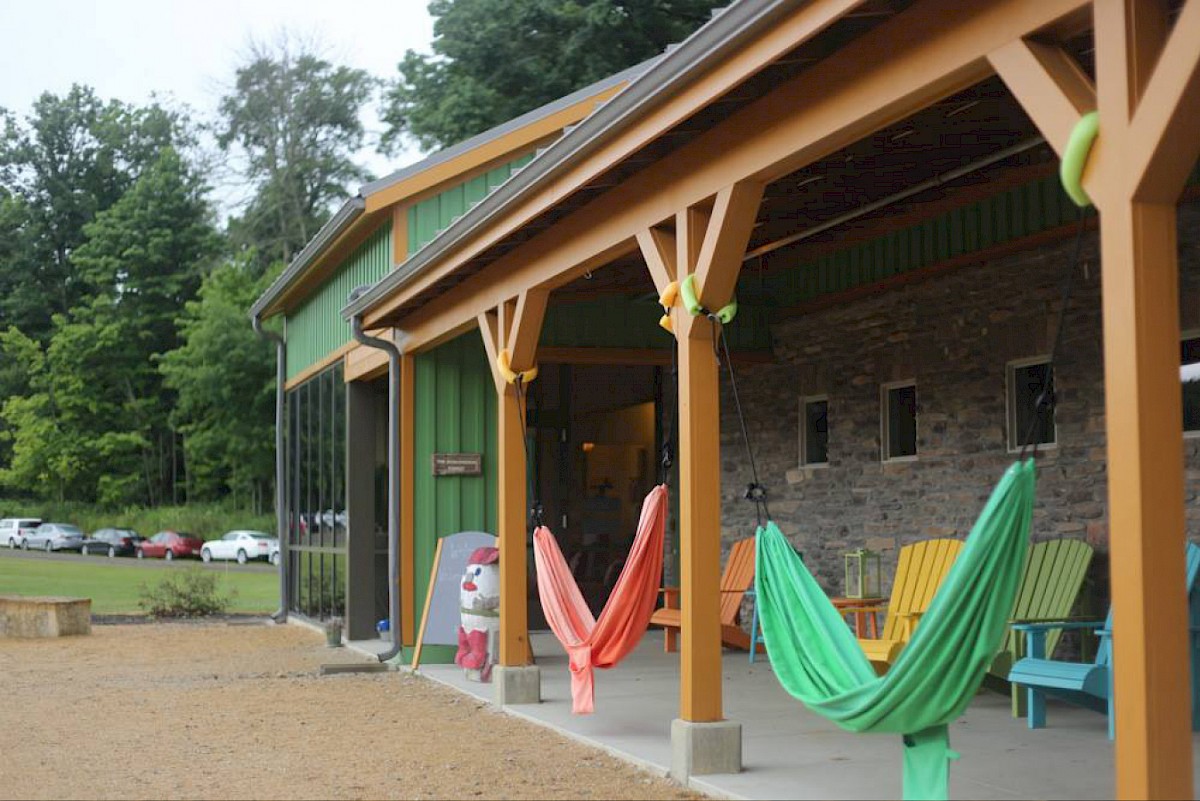 Feel like part of the team. Our Camp HQ building is where Flying Horse Farms summer staff lives during camp. Five nicely appointed suites feature separate bedrooms, living room, bathroom, and kitchenette with full size refrigerator and oven. Fresh linens, pillows, quilts, and towels available for an additional fee. Suites have WIFI, but no TV.
*5 Suites
Each suite sleeps 4
*Not available when summer camp is in session