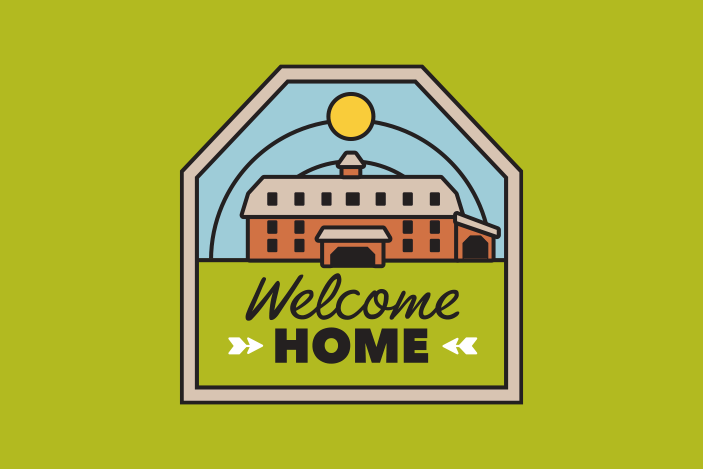 a letter from nichole
This month we are welcoming home campers and families onsite, so it's only fitting that the core value for the month is "Welcome Home!"
This past weekend was the first family camp of 2021. It was bursting with confetti cannons at the front gate, laughter and smiles filled the paths, dancing and singing rang in the villages, and gatherings came together around the campfire (physically distanced, of course), allowed parents to exhale and heal a little after this past year. Experiencing this was an immediate reminder that camp is home for so many people. And it all became true again as campers, families, volunteers, seasonal staff, and our full time staff walked- and drove cars and golf carts—through the Hole in the Wall once again.
Camp becomes home when one walks through the Hole in the Wall and realizes that for as long as they are at camp, they can leave many of their day-to-day worries behind. Pandemic or not, the need for camp is a necessity for a family to feel reprieve. As one family shared with us, camp this past weekend was the first place they ventured to in over a year. We honor this gift of their trust with every ounce of every planned minute to ensure camp always feels like home.
To see parents in rocking chairs, campers running in the soggy field, cheers of friendly competition on the sport court, quiet thoughts observed during the memory walk, and the inaugural spotlight studio sound check made everything feel right in the world again. Families felt at home because of the team's ability to ensure updated health and safety protocols for COVID-19 all while ensuring camp programming was front and center.
With the leveling up of bringing camp home last year, we will remain vigilant to stay connected with campers remotely when not possible or if not eligible, due to health circumstances, to attend onsite camp. Which means Camp-in-a-Box programming is rolling out and onto doorsteps next month. By continuing to provide alternative programming opportunities, we're serving more campers than ever; which means more smiles, more friendships, and a greater sense of belonging in a world that can feel isolated.
We look forward to welcoming YOU home to camp, too!
Save the date: Friday, October 1 for Campfire 2021 at camp!
This special 10-year Anniversary event will include live music, camp experiences, signature cocktails, and gourmet camp bites—all topped off with s'mores and the biggest smile you'll have all year. More details to come soon including a few fun surprises in store!
Thank you for making camp possible for the families who joined us for our first Family Camp and the many, many more who will join us throughout spring, summer, and fall for healing, respite, and a huge dose of much needed fun.
~ Nichole