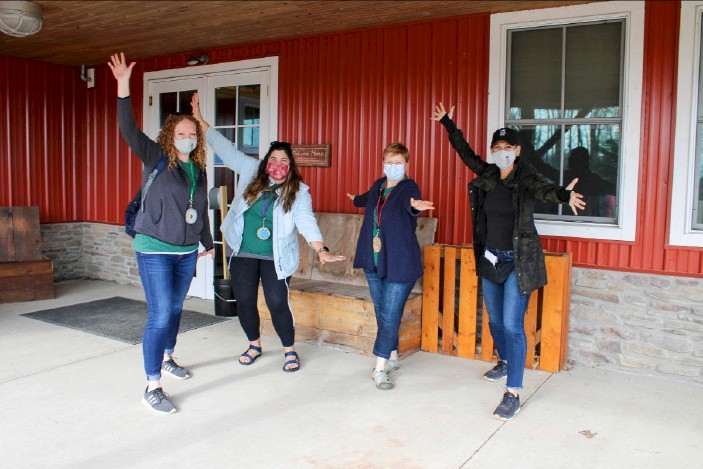 Healthcare Heroes: Meet the team
May 10, 2021
Kristen Dureiko

What's your connection to camp and FHF?

My origin story with FHF dates all the way back to 2014, when I volunteered for the first time as a cabin counselor! Since then, I have worked on seasonal staff as a cabin counselor, continued to volunteer as a Sidekick during Family Camps and even had the chance to volunteer at Camp Korey in Washington and North Star Reach in Michigan. When the opportunity to return home to FHF came about, I immediately knew I would apply for the Camp Nurse position. Flying Horse Farms cannot be defined in words, but rather the actions of so many. The campers, who embrace camp, live fearlessly and help us celebrate every milestone. The volunteers, who selflessly give their time and embody our "all crew, no passenger" value. And the full-time staff, who work tirelessly to ensure that the mission of providing a healing, transformative experience puts campers first, ALWAYS. Who wouldn't want to be a part of a group that amazing!?
Tell us about you and your background!
I started my career as a nurse out in Colorado! I joined the New Grad program at Children's Hospital Colorado on a general medicine pediatric unit. After about 3 years, I transitioned to school nursing in Wisconsin, in the middle of the pandemic. We started the year with virtual learning but have since gone back to in-person instruction. I will soon make the big move back to Ohio to continue my work with Flying Horse Farms, as well as start a PRN (as needed) job with Akron Children's Hospital on their infant/toddler unit.
What are you most excited about for the 2021 camp season?
I'm excited to open those gates and welcome campers and their families back home! After a hard year, I am ready to help campers safely regain their sense of control surrounding their health and wellbeing. And have THE MOST fun in the process!
What is a fun fact about yourself?
I have partial heterochromia which means that one of my eyes is two different colors!
Rachel Trego
LISW-S, Behavioral Health Program Manager

What inspired you apply to work at FHF?
One of my coworkers at NCH, who has been a volunteer in the past told me about the position. When I read the job description, I felt like it was me on a piece of paper. I have such a love for camp, having attended many camps as a child and teenager and working at camps throughout college. Having the ability to merge my love for camps and my clinical expertise is ideal. When I thought about the role, it felt like a perfect fit of merging the things that I love most.
Tell us a bit about your background!
I have my Master's in Social Work from the Greater Rochester Collaborative Program through SUNY Brockport and Nazareth College, in Rochester, NY. While in Rochester, I worked at Anthony Jordan Health Center within their HIV program as a medical case manager. After graduating with my Master's, I volunteered for the summer in Tijuana, Mexico with Bittersweet Ministries and then moved to Columbus. Since moving to Columbus, I have worked in private practice for 3 years and at the Ohio Department of Health with their HIV Care Management Department. I then transitioned to Nationwide Children's Hospital (NCH) as an Emergency Department Social Worker and remain as a contingent staff. I also have worked at OhioHealth for the last 3 years as a psychiatric social worker at Marion General and providing virtual care to various sites.
What are you most excited about for the 2021 camp season?
I am excited to be at camp and to have campers and their families here. I am looking forward to meeting all of the campers and building relationships with the families. I've heard a lot about the camp magic at FHF and am excited to experience it this summer and be a part of it!
What is a fun fact about yourself?
I am also a wedding florist on the side! I love being able to create beautiful arrangements for individuals on their special days!
Laura Martin

When did you first hear about FHF?
I had the opportunity to visit and tour FHF briefly in 2012, and the experience left an indelible impression on me. The beauty and tranquility of the spaces at camp, the creative, thoughtful approach to the clinic, and especially the caring staff and their commitment to FHF's mission made it clear this was an extraordinary place. In caring for patients facing life-altering challenges, I'm acutely aware of the limitations of traditional medical care and our clinical environments. The experiences that FHF offers children and their families transcend those limitations, and provide unique sources of healing, empowerment and transformation. I wanted to be a part of that, and I'm so excited for this opportunity to contribute to FHF's mission.
Tell us more about your background!
I completed my pediatric training at CWRU / Rainbow Babies and Children's Hospital in Cleveland, and my fellowship in pediatric hematology/oncology at Washington University in St. Louis. From there, my work in pediatric oncology took me to San Diego (UCSD) and back to Ohio, at Nationwide Children's Hospital, where I focused on childhood leukemias, cancer survivorship care and our clinical trials for pediatric cancer. I have also always enjoyed teaching and mentoring medical trainees and being involved in research along with my clinical work. Currently, I care for children in NCH's primary care clinics across the greater Columbus area, and serve as a portfolio coach for OSU medical students.
What are you most excited about for the 2021 camp season?
I'm most excited to have campers and their families here to enjoy this beautiful place, a sense of fun and freedom and release after this year with so many restrictions. (plus, dancing!)
What is a fun fact about yourself?
I am a dog-lover, and our family includes two beautiful, very huggable, goofy (and slobbery) Saint Bernard's, Georgia (12) and Luna (8).