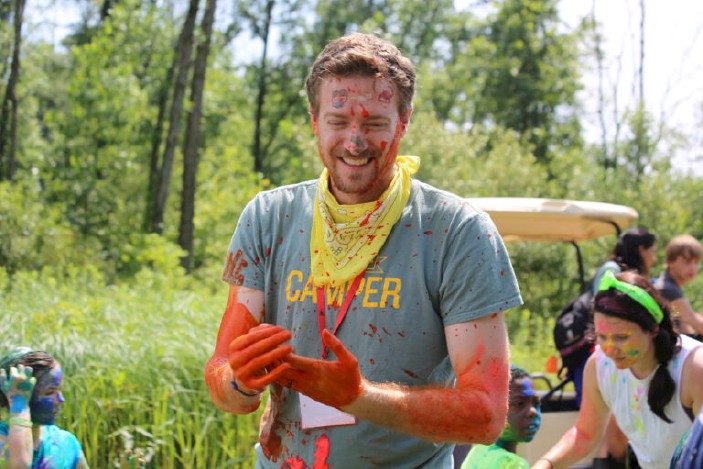 Healthcare Hero: Dr. Justin Schreiber
January 7, 2021
Faced with a global pandemic, many of camp's medical volunteers served as frontline responders in area hospitals and clinics providing essential services to all who needed care. We're grateful to their dedication, compassion, and their expertise that cares for and heals our communities. We know not all heroes wear capes. Sometimes they wear stethoscopes and scrubs. (And tutus and glitter when they come to camp!) Meet Justin Schreiber, DO, MPH, FAAP, Children's Hospital of Pittsburgh.
How long have you been involved with Flying Horse Farms and in what capacity have you been involved?
I had been involved with SeriousFun Children's Network since 2004 when I first worked as a summer counselor for The Painted Turtle during its first year. I wanted to be a part of camp when I started my residency in Pittsburgh and learned about Flying Horse Farms. I went out as a weekend family partner in 2012, as medical staff in 2013, and have volunteered other weeks and family weekends since then.
How would you describe the role of the Medical Advisory Board?
As the only child psychiatrist on the Board I try to make sure we are discussing the mental health aspect of the work we are doing for kids at camp. It was exciting to be a part of thinking through the development of the AYA camp weekend. I have also been a part of the subcommittee focused on behavioral health.
What has been your favorite part of serving on the Medical Advisory Board for FHF?
I really enjoy working with so many other health care providers that are passionate about camp and the impact it has on the physical and mental health of their patients. You can really see how these providers advocate for the families they work with and want to make sure the campers get an experience at camp that will translate into community development and self-awareness essential in managing their chronic illness.
"I really enjoy working with so many other health care providers that are passionate about camp and the impact it has on the physical and mental health of their patients."
How has COVID impacted your job and your patients?
We can't do the same in-person visits, so we have had to be innovative to connect with patients. For families, it has meant trying to navigate school systems and accommodations that are constantly changing while managing the difficulties of ADHD/depression/anxiety in the household. Many patients we see are also experiencing the fear of a chronic physical illness along with a mental health condition, making it even more difficult to cope with the stressors associated with COVID.
What are some of the challenges you have faced in your role?
One challenge was ensuring access, but we quickly switched to tele-services to ensure kids got the care they needed. We quickly found out that people's access to tele-services is different based on access to internet or an appropriate device. We also worked to safely get kids back into the office who needed that based on difficulty with doing tele-services.
What is the importance of continuing to provide camp programming during this time for campers like your patients?
COVID is a significant disruption in children and adolescents' lives. School is not in session like it was before, trips have been cancelled, visits with friends and family has been limited, and family members might be out of work or working in a new way. With all this disruption it is important to know that a constant like camp can still be there to provide community, growth and most importantly fun. It might not be the same to be at the camp, but camp is more than a place, it is the people, it is the programming, and it is the spirt of being together with others who are dealing with the same struggles but working together to make it easier and feel better.