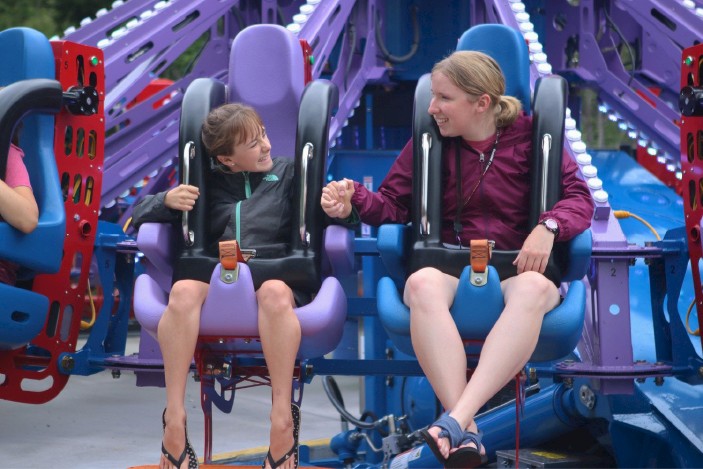 Healthcare Hero: Cassie Flanagan
October 19, 2021
Cassie Flanagan has worked and volunteered at SeriousFun Children's Network camps for more than five years, starting as a camp counselor and then volunteering as a nurse this past summer at Double H Ranch in New York. This year, after moving to Ohio, she volunteered at Flying Horse Farms for the first time and we are thrilled she has joined our volunteer medical team! Learn more about Cassie and why she's a Healthcare Hero.
My name is Cassie and I currently work in Adult Oncology as a Nurse at The Cleveland Clinic. I am originally from Albany, NY, so I worked as a camp counselor at Double H Ranch in New York for five years and volunteered there as a nurse this past summer.
After moving to Ohio, I was excited about the opportunity to volunteer as a nurse at Flying Horse Farms for Family Camp this past year! I felt so welcomed by all the staff, volunteers, and families.
Camp has absolutely shaped who I am as a person and as a medical professional. I could fill a book with all the stories and ways camp has positively influenced me. I personally find camp to be so restorative. Yes, the days are full of activities and as medical volunteers we work hard to sprinkle in needed medical care without taking away from the camp fun. However, seeing kids try new things, make new friends, and blossom into their own unique personalities makes the days feel not long enough!
When I leave camp, I go back to the hospital feeling more hopeful and energized. Sometimes I get so used to the hospital environment, it's easy to forget patients may have physical, emotional, and social challenges I might not see when they're in-patient. Through camp, I get a well-rounded view of what it is like to apply practices in the hospital and adjust them to life outside the hospital, giving kids a feeling of "normalcy" they don't always feel when at school and with their peers.
There is also an unspeakable joy in being able to see kids celebrate their successes as they catch a fish or try the ropes course. In the hospital we are used to seeing patients when they are not feeling well, so being able to watch them be brave in camp activities and not just hospital procedures or tests is so encouraging.
I love celebrating camper "firsts."
I've seen a few campers learn to swim at camp and celebrated with them. Seeing kids grow in independence and confidence brightens my day and I reflect on those moments often. I have had multiple campers who have learned how to self-infuse medications at camp. They learn from the nurses and the older campers also have opportunities to help younger kids learn too!
Another beautiful thing about camp is seeing the kids form connections and bonds with each other. So many campers have never met another child with the same diagnosis, so the feelings of isolation really start to fade away as they share stories of similar experiences. The campers also are so good at cheering each other on and encouraging one another. For many campers, they are used to talking with adults, especially their nurses. It is crucial for their emotional and social development that they feel seen, heard, and validated by their peers. For so many kids they find their community in camp.
Camp is truly something you have to experience in order to believe in the magic that is Camp. I encourage anyone who believes that play brings healing and that it can truly be done in a medically safe way to volunteer for camp. The folks who volunteer and go to camp wholeheartedly love being there and want nothing more than to share in the camp love and magic! Camp is the time to get silly, creative, and meet others with an extraordinary amount of kindness!