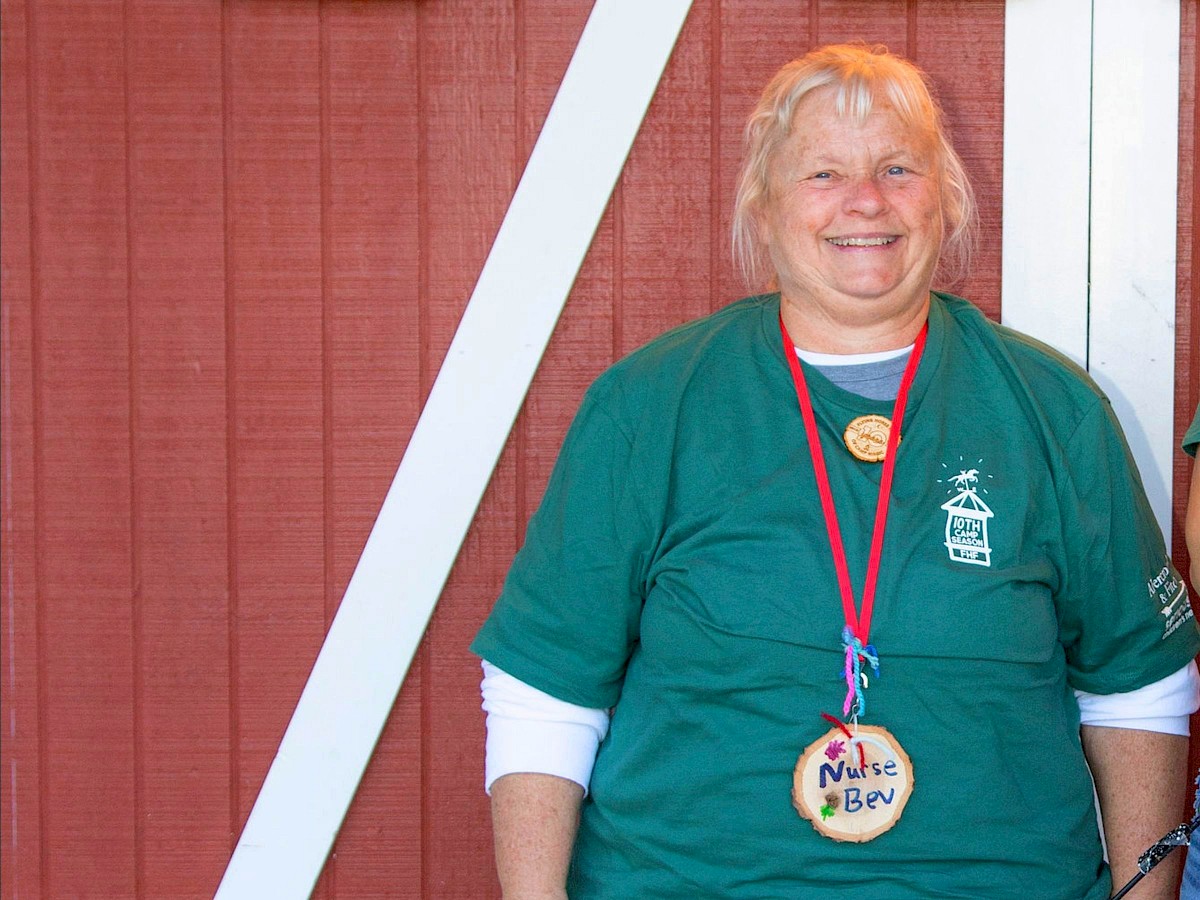 Healthcare Hero: Bev Meade
December 11, 2021
Bev Meade takes volunteering seriously. Over her 35 years as a nurse, she has dedicated time as a volunteer for many causes, including at her local hospital and during disaster relief in Haiti. When she heard about Flying Horse Farms from a fellow nurse, she knew she wanted to be involved.
Along with serving as a medical volunteer in our WellNest, Bev also lends a hand during Light Up Camp and Campfire each year. "Volunteering is one of my favorite things to do!", said Bev. "It is an opportunity for me to give back, have fun, and help someone. I love seeing the kids exude pure joy with smiles from ear-to-ear each year."
Bev recently retired from MedFlight after serving for 24 years as a critical-care flight nurse. She loved nursing so much that she achieved her Doctorate in Nursing, her Master's in Healthcare Administration, several advanced nursing certifications, and her paramedic licensure.
While Bev mostly cares for adult patients in the sky, she does enjoy the healing atmosphere that Flying Horse Farms allows her to work in with kids. "I think everyone should volunteer in some capacity. Not just as Flying Horse Farms, but anywhere we are needed. Each of us has the capability of healing others by offering what skills we have. We can all do so much to make the world a little brighter for others (and ourselves in the process)."
During one visit to Flying Horse Farms with MedFlight, Bev noticed that more golf carts were needed for camper and staff transportation. So, she partnered up with a fellow flight nurse and they personally donated a 6-person golf cart to the camp. We love that it's painted to look like a MedFlight helicopter!
"I am blessed in so many ways, so it is a true privilege to give back where I can," said Bev. "As adults, I think we sometimes forget how to let go and just 'be'. At Flying Horse Farms, I get to dress up in silly hats, sing songs at the top of my lungs, and serve meals in the dining room. If I can provide smiles, hugs, joy, and magic for the campers, then I've done my job.
From the trees and the cabins, to the WellNest and the campfire corral... There is something truly special about Flying Horse Farms."
If you're interested in volunteering at Flying Horse Farms, we'd love to welcome you home to camp! Just fill out our online application, and someone on our team will contact you.