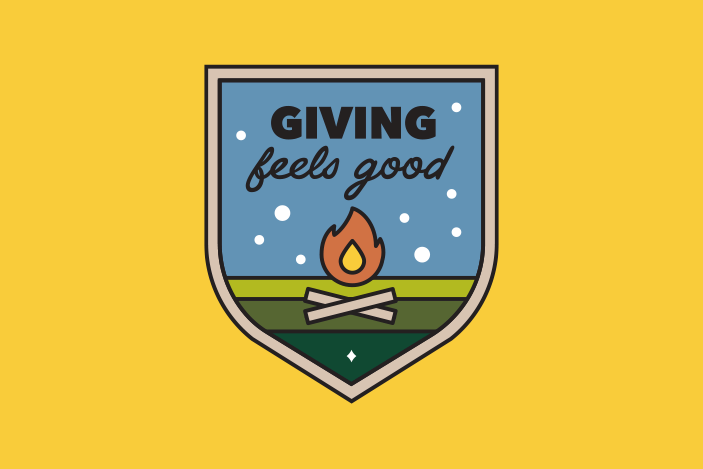 Giving feels good
August 17, 2021
a letter from nichole
Summer always seems to fly by, and this year is no exception. Especially when it's a summer full of confetti showers and campfires as Flying Horse Farms welcomed children and families back to camp. It's been an extraordinary summer in the most positive of ways with the return of more than 60 families—and of course a s'more or two...or three! We had just as much fun making popsicles, launching rockets, and changing the world online with friends during virtual programs.
Creating the magic that exists throughout Family Camp is no small feat. It's made possible by the many volunteers who give their time and talent. This is both with ongoing volunteers throughout the year and those who log in each month to host virtual camp calls, even from across state lines!
It's this dedication to children and families that inspires August's Core Value: Giving Feels Good. We rely on volunteers each year to safely staff camp sessions and participate in high impact training, maintain facilities, keep camper bellies full, and assist with administrative work.
The American Camp Association's Project Real Job shows that working at camp is more than just 'a fun summer job'—it's a way to build real-world skills that are transferable to the workplace and navigating adult life. Flying Horse Farms provides the invitation to those who are interested to receive certification and training for high-risk activity areas like archery or high ropes to ensure the safest experience possible for all. Our annual training with seasonal staff and volunteers include emergency planning through our emergency staffing roster that is always filled with no less than three trained people per role. This is on top of the skills built while volunteering or working at camp, like problem solving, interpersonal skills, empathy, and creativity. At Flying Horse Farms, the volunteer experience is unique, empowering, skills-based, multi-faceted, and inclusive. Together, we serve camp's mission, challenge growth, foster strong leaders, and expand community.
It is our guarantee that anyone who engages with Flying Horse Farms, including volunteers, has a transformational experience. Program volunteers see the impact of a traditional camp experience for children living with serious illnesses while learning new organizational and leadership skills. Through visits and updates, donors see how their dollars make an impact. Campers and their families find the one place they can heal, grow, and thrive.
Medical volunteers leave camp feeling refreshed with lessened burnout. This was true even before the pandemic. After more than a year of working overtime, constant stress, and pandemic, medical professionals need ways to relieve burnout more than ever. On their time at camp, one medical volunteer said, "Knowing there is much more behind the faces of a concerned family member than the current reason their child is before us is important. A hospitalization is difficult emotionally, financially, physically, and more. But it has that stress on the whole family and not just the patient. Camp is a moment of separation from that and the more ways we can find those moments in our daily lives, the easier the load is to carry for our patients and families."
If you're ready to have your own transformative experience and feel just how good giving feels, we have opportunities for YOU yet this year. Apply to be a volunteer for a Fall Family Camp, Adolescent Young Adult (AYA) Camp, or our upcoming Campfire event and the return of Light Up Camp. Reach out to . Or, simply share the story of camp with someone else so they can see the impact of Flying Horse Farms.
The gates are open, and we'd love to Welcome you Home.
~ Nichole
(P.S. We're hosting a Friends of Camp Webinar on Thursday, August 26, at 12 p.m. I'd love to see you there! Click here to reserve your spot now.)