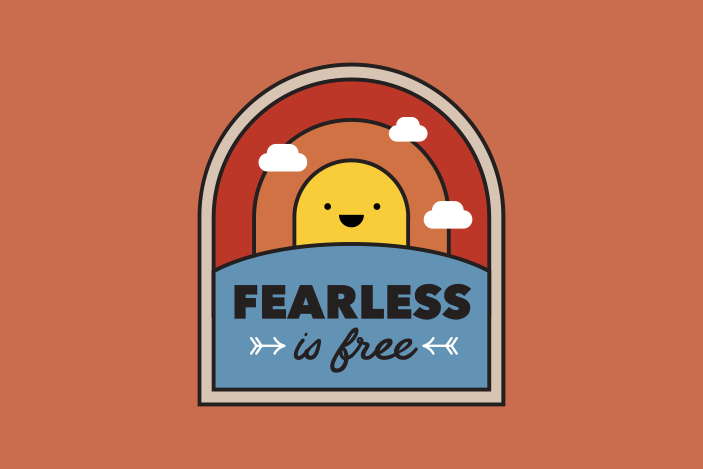 Fearless is free
April 13, 2021
a letter from nichole
We're ringing in spring with camp's fourth core value—"Fearless is Free." This core value leans into some of our other operating values, like being All In and having a sense of optimism. It means trusting each other and trusting ourselves to change things up when it is needed as we dream big and accomplish things we didn't think possible.
In camp, this can mean campers trying a new food or dish, because they know camp will make them a meal that is safe to eat. It can mean going down the zipline over the pond, because they know that safety comes first at camp. It can mean learning how to swim in the pool, because it's the first pool they've been able to swim in and know they will not experience a pain crisis afterwards. It can mean sharing your feelings about what it's like to live with a serious illness for the first time, because you know your cabin mates will understand and accept you. Fearless is Free means taking the leap and trusting that someone will be there to catch you if you fall.
2020 was a year-long exercise in being fearless and we've taken this experience with us into 2021. In 2020, being fearless meant trusting that camp is something we take with us wherever we are and the team rebuilt a camp season while honoring camp traditions in a virtual program setting. In 2021, being fearless has required the team to be evermore intentional and level up our ability to create adapted, physically distanced programming for onsite Family Camps that allow for the same camp magic we know and love. Whether it's dancing after dinner on a cabin porch to a spaced-seating campfire, the Flying Horse Farms team is making it happen. And invite you to see how!
On April 24 from 11 a.m. to 1 p.m., we're hosting a 'Spring Into Camp' open house. Tour groups will see some of the adaptations and camp updates we've put in place, and maybe even feel the camp magic for themselves as they walk through camp. Click here to reserve a tour time on the 24th, and be sure to do so soon, as spots are filling quickly. You may even see me in my favorite camp arrival day role of Hole in the Wall greeter and parking guide!
If you cannot make it, give us a call or , and we can set up a tour on a different day. We'd love to welcome you home to camp!
~ Nichole