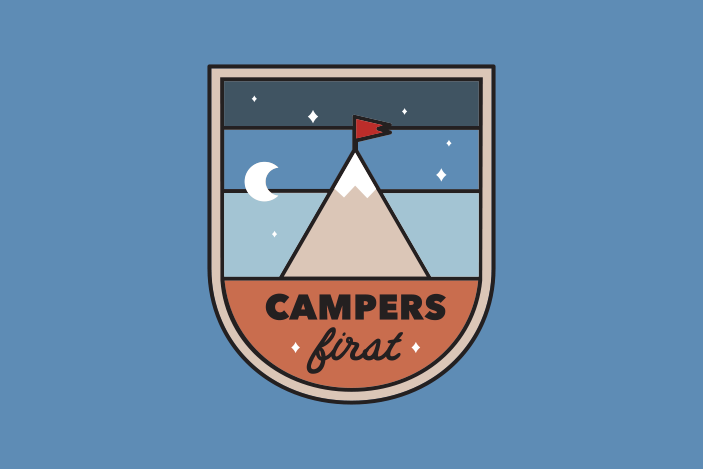 Campers first
February 8, 2021
A letter from Nichole
With every new year comes an opportunity to refresh, renew, and restart. Especially this year. As we look ahead to 2021 and celebrating our 10th anniversary of onsite sessions at Flying Horse Farms, we are taking forward all we learned and experienced in the past year. It was a tremendous year of reflection, surviving, thriving, and new perspectives that reminded us what matters most personally and as an organization.
We are also taking forward the 10 core values that have guided us since we opened camp a decade ago. Over the next 10 months, we will recognize and celebrate a different core value as we lean on them to take us through the next 10 years of healing and hope at Flying Horse Farms.
Our first core value at camp is and will always be "Campers First."
It was this focus that led to the first suspension of onsite camp programming last year and the immediate pivot to reach campers where they were – at home – and safely at offsite physically-distanced events. We launched our first virtual camp experiences, delivered Camp-in-a-Box, hosted camper drive-in movie nights, and made mental health an affirmed priority by ensuring much-needed connection to peers via cabin chats and access to the Purple Power Line. It is this same lens that allows us to look ahead to this year filled with optimism that campers and families will return to camp for onsite programming and experiences.
With campers' health and best interests at the forefront, we start this year continuing to partner with our Medical Advisory Board to determine a path toward a return to camp. The recently launched COVID-19 vaccine deployment is one important step forward. Other levers under constant watch and consideration include ongoing infection rates, medical volunteer availability, and state and local health recommendations.
We expect to share information about 2021 programming with camper families in the coming weeks. In the meantime, we're grateful for the abundance of opportunity that lays before us as we prepare to welcome our camp community home and open our gates to campers first.
~ Nichole