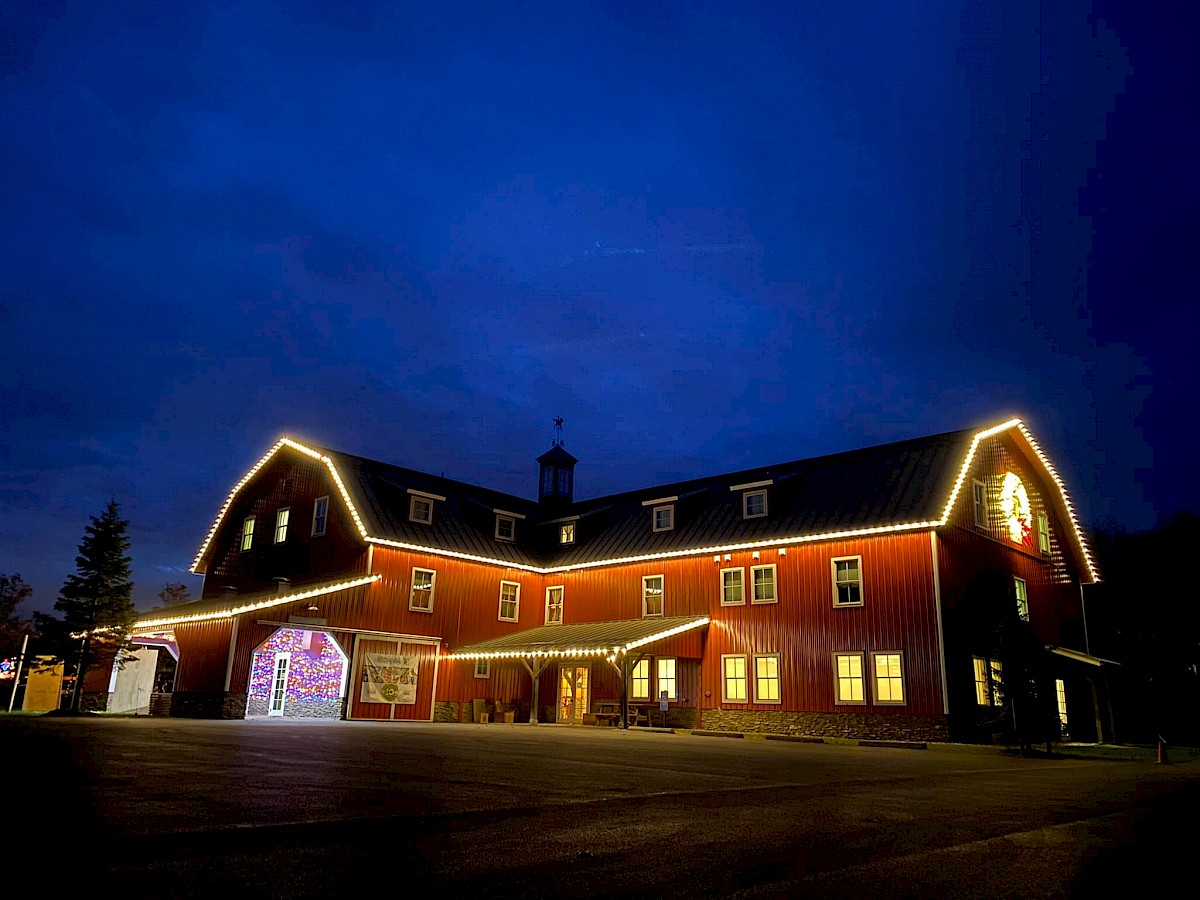 Camp Magic for the Holidays
December 11, 2021
In September of 2020, we got a crazy idea. What if we put on a light show at camp for the holidays? After a couple brainstorms and phone calls to partners and friends, we decided to go for it.
The next thing we knew, we found ourselves outside in hats, mittens, boots and snow pants, off roading in the snow in the golf cart — and welcoming 2000 cars to camp starting Thanksgiving evening through the end of the year.
And what a ride it was for us!
We added lights on cabins, the Big Red Barn, down the center path, and figured out creative ways to add sparkle to the highest branches.
We made dozens of sprints across the field to swap out burned out bulbs.
On December 24th, with a wind chill well below zero, a snow storm shut the whole thing down early.
One night, a car broke down in line. Together, a crew of volunteers and team members pushed it behind the dining hall. While the family waited for a tow, the kids cuddled up in the WellNest and got a front row seat to the lights.
Overall, we delighted in seeing families drive through and marvel at the spectacle (some of them even donned matching pajamas for the occasion). We were thrilled to open the gates that year and bring a bit of cheer. The real gift is that the event raised $40,000 for Flying Horse Farms and helped us reopen camp in 2021, despite a global pandemic.
'Tis the season to do it again! Light Up Camp is a hopeful new tradition to share camp magic with everyone, while also creating more opportunities for children with serious illnesses and their families to have their own camp experiences.
If you haven't made it out yet, you can visit Light Up Camp any Friday, Saturday, or Sunday through December 26, 2021. As always, the event is free to the public with a suggested donation opportunity that supports Flying Horse Farms and enriching the lives of children with serious illnesses through the power of camp.
Thank you for helping us keep the campfire burning all year long.
- Nichole