Camp Rentals
Looking for a wide open space to host a family gathering, Friends-Giving, weekend getaway, or even a physically distanced corporate retreat? Come to Flying Horse Farms.
Our Location
Flying Horse Farms offers simple, rustic elegance with the airy peacefulness of nature. Celebrate a special occasion or holiday with family and friends close to your heart with space to safely distance. Spend the night in a cluster of cabins, enjoy a holiday feast, or read a book next to a crackling fire. A private escape for your small group or large family, Flying Horse Farms is the perfect getaway close to home. Located in pastoral Mt. Gilead, Ohio, on 200 acres, we have multiple spaces indoor and out to relax, breathe deep, and explore.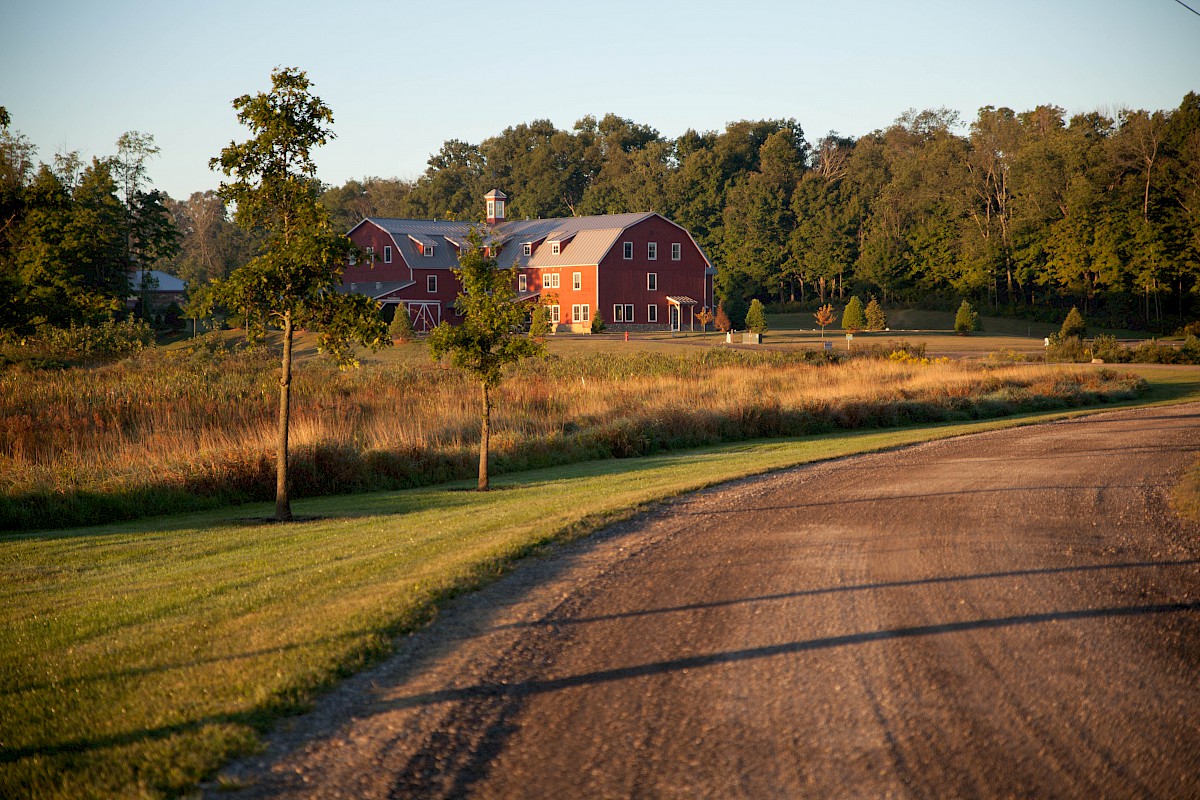 Relive your summer camp days, host a sleepover, or create new cabin memories in Flying Horse Farms' rustic bunkhouse cabins. Able to accommodate a maximum of eight guests in each cabin, these aren't your typical summer camp bunkhouses. Sleep in and snuggle up under handmade quilts, sip a cup of coffee on the porch, or lounge in a handmade rocking chair. They are the perfect holiday getaway for a family or a friends' sleepover weekend. Pair a cluster of cabins with the Atrium for a cozy retreat.
The space offers a small refrigerator, coffee maker, accessible restrooms, Wi-Fi, and temperature control.
Total area: 1,568 sq. ft.
14 twin-sized beds
Linens included – bedsheets, blanket, quilt, pillow, towels
Looking for a large open space to host activities, meetings, trainings, or even a large family meal? Bring your crew to the Cardinal Health Foundation Activity Center at Flying Horse Farms. With more than 9,000 sq. ft. to spread out, you'll be able to safely distance while enjoying a breeze through the seasonal roll-up garage-style doors throughout the building or present from a stage complete with lights and sound.
The space offers accessible restrooms, a large stage, Wi-Fi, AV services, sound system, seating, and a separate prep or meeting room.
Total area: 9,155 sq. ft.
8 8′ hand-hewn wood tables (more plastic tables can be added)
64 rustic wooden chairs
225 plastic chairs
Experience the heart of camp when you host an event in the Flying Horse Farms Dining Hall. Filled with colorful campiness and high-quality wood finishings, this 12,000+ sq. ft. hall offers plenty of space to safely spread out during meals or while sipping coffee next to the cozy fireplace. The Dining Hall accommodates 70 safely distanced guests with rustic charm.
The space offers accessible restrooms, wood-burning fireplace, Wi-Fi, AV services, sound system, microwave, and small refrigerator. Additional services may be available upon request.
Total area: 12,501 sq. ft.
24 8′ hand-hewn wood tables
225 rustic wooden chairs
Located within our iconic Big Red Barn, this upscale meeting space is the perfect space for a cozy retreat or small reception. Snuggle up with a warm cup of cocoa next to the fireplace, play a board game with your friends, or spread out for a meal at the large dining table. Hosting a meeting? Give your team a comfortable, scenic space to think outside the office. This 3,500 sq. ft. space offers safe physical distancing for 15 people.
The space offers accessible restrooms, Wi-Fi, AV services, comfortable seating, a conjoined conference room and a small kitchen prep area. Furnishings include multiple couches, large armchairs, and tables.
Total area: 3,500 sq. ft.